Event date:
Saturday, August 18, 2018 - 11:00am
Join us for a story time with Katy Farber, author of Salamander Sky.
ABOUT THE BOOK: Every spring in the eastern region of the United States, warmer nights with steady rain bring the migration of thousands of spotted salamanders to ponds and pools, often across busy roads. These crossings are magical, and secretive—most people don't even know they happen. Salamander Sky features a mother and daughter who go out on a rainy night to help the salamanders cross the road safely. This dramatic, full-color, picture book introduces readers to the elusive spotted salamanders and the perilous nighttime journeythey take each spring. Amphibians worldwide desperately need protection. This book is a valuable tool for getting children engaged in conservation.
ABOUT THE AUTHOR: Katy Farber is a professional development coordinator, author, and blogger from Vermont. She writes about education, parenting, the environment and sustainability for various websites and publications. Her middle grade novel, The Order of the Trees (Green Writers Press 2015), was an Honor Book in the Nature Generation's Green Earth Book Awards.
DATE: Saturday, August 18th at 11am
LOCATION: Phoenix Books Rutland
ADMISSION: Free and open to all ages.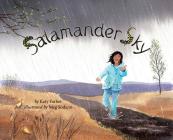 $17.95
ISBN: 9780999076644
Availability: Usually Ships in 1-5 Days
Published: Green Writers Press - March 9th, 2018
---