Event date:
Saturday, October 12, 2019 - 11:00am
Join us for story time with author Eva Zimet as she reads from her new book Lucy Dancer!
About the book: Lucy's dream is . . . not ballet. She wants to fly. She leaps on the shore with feathers, she practices gymnastics, but it's dancing that really sets her free. Lucy unexpectedly finds the treasure of her spirit in dance and the world of dancers. Splashed with humor, engaging and charming watercolors, and a delightful and appealing personal story, Lucy Dancer has the ring of authenticity and real-life emotions that link effortlessly to experiences and an imagination we can all share.
About the author: Eva Zimet left academia after the third degree and returned to the arts, her real home. Dancing and drawing since she was a tiny thing, she brings an I-was-there insight to her stories and characters, and a good helping of I-am-here insight as well. She left New York City where you can tell she was born and raised, and now lives in Vermont with any family happening to visit.
This event is free and open to all ages.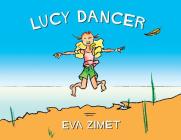 $13.95
ISBN: 9781578690121
Availability: Click Title to See Location Inventory
Published: Rootstock Publishing - May 15th, 2019
---