Event date:
Saturday, September 22, 2018 - 11:00am
Join us for a story time with Robert Broder!
ABOUT THE BOOK: Not all who wander are lost, sometimes they're just searching for a new song.
Paul was given a present. "A guitar?" said Paul. "It's a ukulele." said his parents. Paul loved his ukulele and spent all his time crafting his own song. As he got older, Paul knew it was time to head out in search of something new. When his travels took him to one small town, the unexpected happened. But from unexpected circumstances can come new friendships and new experiences. And maybe that new song he's been looking for.
ABOUT THE AUTHOR: Robert Broder loves picture books, cold weather, and warm chocolate chip cookies. He likes all dogs and only two cats. When he's not outside hiking with his family, he's inside playing his ukulele.
DATE: Saturday, September 22nd at 11am
LOCATION: Phoenix Books Burlington
ADMISSION: All ages are welcome to this free event.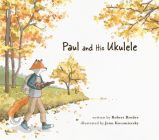 $17.99
ISBN: 9780999024928
Availability: Click Title to See Location Inventory
Published: Ripple Grove Press - September 18th, 2018
---