The House that Santa (Almost) Missed book signing
Event date:
Saturday, December 14, 2019 -

2:00pm

to

4:00pm
Join us for a holiday book signing featuring The House that Santa (Almost) Missed, a heartwarming story for young and old by Vermont author and illustrator Paul Laud.
ABOUT THE BOOK: The House that Santa (Almost) Missed is a whimsical, rhyming tale about a Christmas Eve snow storm which buries one house so deep that Santa winds up passing it by. James and Alisa, the family's two children, spend Christmas Eve arguing about who will get the most presents. Meanwhile Janie, a big-hearted, lumbering dog, and her sidekick, a little white cat named Nell, brave the snowy night in an adventure to rescue Christmas for the family's two children. After failing to grab Santa's attention on his busiest night of the year, Janie and Nell wrap some of their most treasured pet-toys and set them under the tree for their beloved little humans. Labeling the well-loved toys with scribbled tags, Janie and Nell hope that these gifts will be a last-ditch effort to save Christmas morning. Santa finally does arrive, leaving gifts for James and Alisa. When the kids open the gifts wrapped clumsily by Janie and Nell they conclude that these are very special gifts intended by the dog and cat for each other. The story ends with a happy lesson about love and magic, and sharing from the heart.
ABOUT THE AUTHOR: Paul Laud lives in Northwest Vermont. His most recent work has included illustrations for two books, a young adult novel titled "Dark Against the Sky: A Climbing Boy's Story" and a collection of political cartoons from NJ newspapers titled "Laughing Out Laud". Paul's illustrated political limericks, which appeared in the NJ Hills Media Group newspapers and other outlets were nominated for the Pulitzer in 2014. His work has also appeared in the New York Times, USA Today and the Daily Princetonian. He is the recipient of the Princeton University Society of the Claw award for his special event illustrations. A collection of his cartoons is archived at the University.
ADMISSION: This event is free and open to all.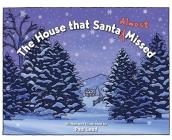 $24.99
ISBN: 9781949066210
Availability: Click Title to See Location Inventory
Published: Onion River Press - September 1st, 2019
---