Saturday, January 21, 2017 - 6:00pm
The stories we read with children are important, now more than ever. All are welcome to a storytime where Megan Dowd Lambert will use the Whole Book Approach to get kids talking about picture book art and design. Megan will feature her own picture books, A Crow of His Own and Real Sisters Pretend, as well as others that speak to themes of community, family, and inclusion.
ABOUT THE WHOLE BOOK APPROACH: The "Whole Book Approach" is a storytime model that explores the ways that words, pictures, and book design work together to tell a complete story. It was developed by children's literature scholar and author Megan Dowd Lambert in conjunction with the Eric Carle Museum of Picture Book Art in Amherst, MA. The concept of "Whole Book Approach" was sparked by a study of Visual Thinking Strategies (VTS), a collaborative effort of psychologists and art museum docents. The adult leads the children in reading the book, rather than reading the book at/to them. VTS questions are applied to picture book art by asking readers "What is happening in this picture?" "What do you see that makes you say that?" and "What else do you see?" One reader may see a great, big dragon in the clouds, another may simply see rain in the forecast; there are no right or wrong answers.
ABOUT THE AUTHOR: Megan Dowd Lambert teaches in the graduate programs in Children's Literature at Simmons College. At the Eric Carle Museum of Picture Book Art she developed two original storytime models, the Whole Book Approach and A Book in Hand, which are aimed at engaging readers with the picture book as a visual art form. A frequent speaker at professional conferences, schools, libraries, and museums, she reviews children's books for Kirkus Reviews and the Horn Book and contributes to Horn Book Magazine's "Books in the Home" column. A mother of six children ranging from infancy to college-aged, Megan lives with her family in Massachusetts. Her books include Real Sisters Pretend, A Crow of His Own and Reading Picture Books with Children: How to Shake Up Storytime and Get Kids Talking about What They See.
DATE: Saturday, January 21st at 6pm
LOCATION: Phoenix Books Essex
ADMISSION: All are welcome to this free event.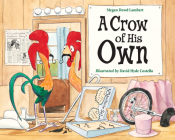 $16.95
Email or call for price.
ISBN: 9781580894470
Published: Charlesbridge - April 14th, 2015
Clyde is the new rooster at Sunrise Farm. But he's having trouble fitting in and replacing Larry—the beloved rooster whose wake-up calls were legendary. The cow, the gaggle of hens, and the sheep reminisce about Larry while poor Clyde fails to croon the farmyard awake with the same finesse. Clyde attempts to win over the farm by wearing an elaborate costume and putting on a show like Larry was known to do, but in the end, Clyde realizes that imitating Larry is not the way to succeed.

Awards

SELECTION 2016 - Cooperative Children's Book Center Choices
SELECTION 2016 - Bank Street College Best Children's Book of the Year
HONOR 2016 - Ezra Jack Keats Book Award
---

$21.95
Email or call for price.
ISBN: 9781580896627
Published: Charlesbridge - November 3rd, 2015
A new, interactive approach to storytime, The Whole Book Approach was developed in conjunction with the Eric Carle Museum of Picture Book Art and expert author Megan Dowd Lambert's graduate work in children's literature at Simmons College, offering a practical guide for reshaping storytime and getting kids to think with their eyes.

Traditional storytime often offers a passive experience for kids, but the Whole Book approach asks the youngest of readers to ponder all aspects of a picture book and to use their critical thinking skills. Using classic examples, Megan asks kids to think about why the trim size of Ludwig Bemelman's Madeline is so generous, or why the typeset in David Wiesner's Caldecott winner,The Three Pigs, appears to twist around the page, or why books like Chris Van Allsburg's The Polar Express and Eric Carle's The Very Hungry Caterpillar are printed landscape instead of portrait. The dynamic discussions that result from this shared reading style range from the profound to the hilarious and will inspire adults to make children's responses to text, art, and design an essential part of storytime.
---