Event date:
Saturday, April 8, 2017 - 3:00pm
Celebrate spring with Eileen Christelow and a storytime featuring her new book, Robins!
ABOUT THE BOOK: Robins are the most familiar and beloved of all birds, found throughout North America and celebrated as one of the first signs of spring. But there's a lot about them that most people don't know! In this visually stunning picture book that features comic-book panels combined with painterly illustrations, Eileen Christelow tells the story of two young robins' first year, and reveals plenty of little-known facts that are sure to captivate young naturalists. Narrated with humor and filled with kid-pleasing details, this fascinating account of how robins grow up includes an Author's Note, Glossary, More About Robins, and Sources.
ABOUT THE AUTHOR: Eileen Christelow has written and illustrated numerous best-selling picture books including ten popular stories about the Five Little Monkeys, Letters from a Desperate Dog, and Vote! She lives with her husband in Dummerston, Vermont, and you can learn more about her life and work on her website, www.christelow.com and on www.fivelittlemonkeys.com
DATE: Saturday, April 8th at 3pm
LOCATION: Phoenix Books Rutland, 2 Center Street, Rutland
ADMISSION: All ages are welcome to this free event.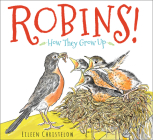 $16.99
ISBN: 9780544442894
Availability: Usually Ships in 3-7 Days
Published: Clarion Books - February 7th, 2017
---