Event date:
Thursday, November 15, 2012 - 7:00pm
Explore the Queen City from every perspective, when photographer Paul O. Boisvert visits Phoenix Books Burlington.
Burlington, Vermont:  A Sense of Place is a visual tour through the four seasons in one of the most beautiful and livable cities in the world. Throughout the years, photographer Paul O. Boisvert has captured the city in many ways: from the air, water, and land. Some of these photographs were taken on assignment for different magazines or newspapers such as the New York Times, but most were taken while roaming around Burlington looking for new angles and perspectives.
"Paul O. Boisvert sees the Queen City like no other photographer—he lives on Lake Champlain and has covered just about every inch of Burlington while looking through his camera's viewfinder. This is a keepsake for all who love Vermont's biggest city. "  – Joe Healy, Former Editor-in-Chief, Vermont Magazine
Paul O. Boisvert was born, raised, and lives in Shelburne, Vermont. His love of photography began when he was eight years old and his father gave him a Hero Imperial 120 camera. This infatuation continued throughout his school years, and after graduating Boisvert established a freelance photography business. Over the course of his career, Boisvert has come to be acclaimed as one of Vermont's most highly regarded photographers. His professional work has included publications such as The New York Times, Vermont Life magazine, Vermont Magazine, SKI magazine, Best of Burlington magazine, and many commercial clients as well. Boisvert's travels have taken him all over the world, but Vermont and Lake Champlain always call him back home.
This is part of a series of events with Wind Ridge Publishing authors taking place at Phoenix Books Burlington this fall. WRP authors are all local residents; however, their books reflect a broad range of issues, experience, and global interests—from Green Mountain Coffee Roasters' Rick Peyser and Bill Mares' in Brewing Change, Peyser's personal account of social responsibility and the lives of coffee farmers, to Vermont wildlife rehabilitator Helena Nicolay's Squirrel Diaries and Shelburne veterinarian Dr. Steven Metz's book, Exotic Tails. Other featured WRP releases include VPR commentaries from the Executive Director of the Vermont Humanities Council, Peter Gilbert's I Was Thinking and Paul Boisvert's photo essays in his coffee table book, Burlington ~ A Sense of Place.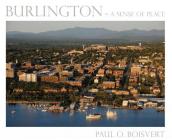 Email or call for price.
ISBN: 9781935922056
Availability: Special Order
Published: Wind Ridge Publishing, Inc. - September 2011
---