Event date:
Thursday, March 28, 2013 - 6:30pm
Join us for Armchair Travel: Beat the Winter Blues with the Authors of Walking Distance and Seeing the Songs, a special event with Robert Manning, Martha Manning, and Gary Margolis.
Robert Manning is a professor in the Rubenstein School of Environment and Natural Resources at the University of Vermont where he teaches and conducts a program of research on national parks and related areas.
Martha Manning has a degree in art from the University of Vermont and practices at her studio in Burlington, Vermont. Over the past decade, they have walked many of world's great long-distance trails.
Gary Margolis Ph.D is Executive Director of College Mental Health Services Emeritus and Associate Professor of English and American Literatures at Middlebury College. His third book, Fire in the Orchard was nominated for the 2002 Pulitzer Prize in Poetry.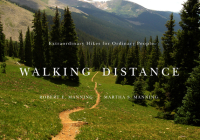 $35.00
ISBN: 9780870716836
Availability: Not in stock. At Our Partner Warehouse: Usually Ships in 4-7 Days.
Published: Oregon State University Press - December 15th, 2012
In Walking Distance, Robert and Martha Manning invite readers to explore the joy of walking. Their book explains why, how, and where to walk and features first-hand descriptions of thirty of the world's great long-distance trails, ranging from inn-to-inn walks to backpacking treks. Each entry—Turkey's Lycian Way to Vermont's Long Trail—includesnatural and cultural history, personal anecdotes, and practical tips.Every trail description is richly illustrated with color photographs and maps.

"A book to read in the dead of winter so you'll be longing for spring."
BILL MCKIBBEN,Wandering Home

"Follow in the footsteps of John Muir and develop your insights into nature
and human nature; let Walking Distance be your guide."
ALISON CHIN, President, Sierra Club
---

$14.95
ISBN: 9781927043318
Availability: Click Title to See Location Inventory
Published: Libri Publishing - June 1st, 2012
Award-winning poet and psychologist, Gary Margolis, takes us into
two hearts of Ecuador—the High Andes and Rainforest. There, he and
his small group of writers, counselors, and business men and women
encounter the practice and wisdom of the shamans, the curanderos.
There, they see the trees that have been taken, the Indians whose songs
remain. Step by step, mile by mile, they find their way up and over the
Andes, across the stone-sung Amazon rivers and further into the jungle,
to find a love they had forgotten, a world with which they could return.

Gary Margolis writes important poems about important subjects, which he understands
in emotional and intellectual depth, as Seeing the Songs, this fine book, now
demonstrates in his lyrical prose.
—Bill McKibben

Seeing the Songs IS being there. When you enter this incredible book, you enter a
world where dreams and reality weave each other and "fact becomes poetry, poetry
becomes fact." A brilliant book!!
—John Perkins
Author of Confessions of an Economic Hitman
---