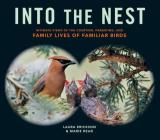 $17.95
ISBN: 9781612122298
Availability: Not in stock. At Our Partner Warehouse: Usually Ships in 4-7 Days.
Published: Storey Publishing, LLC - April 21st, 2015
It's easy to overlook species that we see (and hear) every day like chickadees, crows, and mourning doves. This book will remind you how extraordinary these winged creatures really are, and will give you a close-up look into their daily lives. Gorgeous photography compliments the fascinating text of this book. A great choice for nature lovers, and a wonderful book to enjoy with the whole family.
---