Enjoy your Saturday morning with a reading of the children's book Escargot, by Dashka Slater.  After we read together, we'll have a fun and interactive healthy food activity.

ABOUT THE BOOK:  A charming, funny, interactive picture book that is ideal for picky eaters and animal lovers alike. Escargot is a beautiful French snail who wants only two things: 
1. To be your favorite animal. 
2. To get to the delicious salad at the end of the book.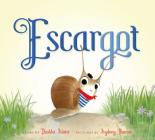 $16.99
ISBN: 9780374302818
Availability: Usually Ships in 1-5 Days
Published: Farrar, Straus and Giroux (BYR) - April 11th, 2017
---